A Founders Message
We live in a concrete, violent, noisy, high tech, busy world. We have lost our connection to animals, to nature, and most of all, to ourselves. Animals are living lives of torment from beginning to end, their cries are unheard, their pain is unseen, and they are suffering. The rate of heart disease, cancer, obesity, and diabetes has never been higher. The rain forests are being destroyed, we are in a global drought, we are polluting our air, and species go extinct every day. But by having reverence for all life and by reconnecting with Mother Earth we each can change all that. At The Gentle Barn we stand up for the innocent, and we help animals and children alike remember that they matter. We open people's hearts to the connections with nature. We open people's minds to what is happening around us. And we inspire people to be an integral part of the solution. Through the stories and interactions with our animals, we can raise future generations to have reverence for all life, protect our planet, live good healthy, happy lives, and we will all be closer to having peace on earth!
We can't do this work without you and are grateful for your support. Enjoy the website and check back with us from time to time to see what's new. The best way to help is by making a donation, sponsoring an animal or sponsoring a group of school kids, at-risk kids or special-needs kids to come to The Gentle Barn.
Thank you so much for your support!
With gratitude,
Ellie & Jay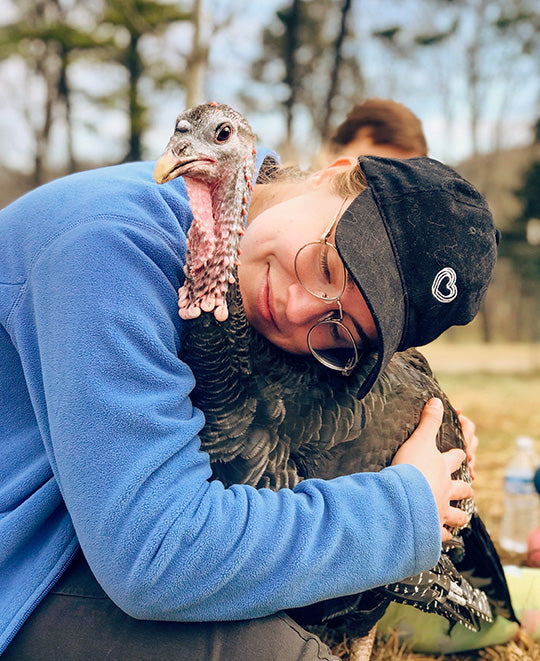 A Brief History
Ellie Laks founded The Gentle Barn in 1999; it was a dream of hers since she was seven years old. Animals were always very healing and nurturing to her as she faced the challenges of growing up, finding herself, fitting in, feeling understood, etc. She majored in special education and psychology, and with her special love of animals and children, The Gentle Barn was a perfect way of putting all her talents and passions into one.
Jay Weiner joined The Gentle Barn in 2002 as a volunteer, but fell in love with the place and the two joined forces to heal even more children and animals together. Like Ellie, Jay also turned to animals for the support, love and nurturing he needed as a child.
The Gentle Barn started on a half-acre property in the middle of the San Fernando Valley, CA. In 2003 Ellie and Jay moved The Gentle Barn to a six-acre paradise in Santa Clarita, CA. The property is complete with large horse and cow pastures, a red and white barnyard for the smaller animals, an organic vegetable garden, lots of shade trees, and a panoramic view of gorgeous mountains. There are nearly 200 animals that are safe and happy at The Gentle Barn, and there is plenty of room to welcome their visitors and the children they host.

The Gentle Barn has a second location in Nashville, Tennessee, and a third in St Louis, Missouri. It is their goal to open Gentle Barns in every state so that everyone in America can hug cows, cuddle turkeys, give pigs tummy rubs, and look into the eyes of these animals and know for certain that we are all the same, and deserving of the same rights, respects, and freedoms. Since its inception, The Gentle Barn has saved thousands of animals and been host to over 500,000 people.