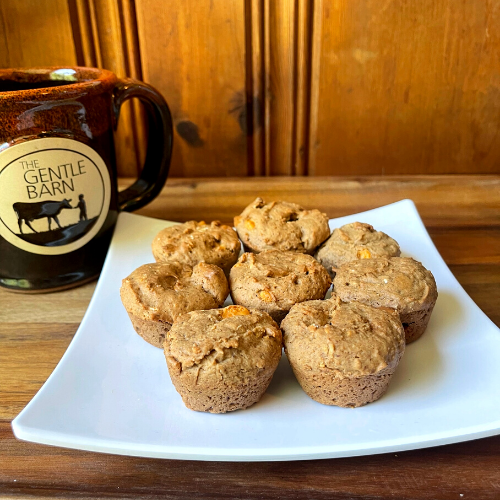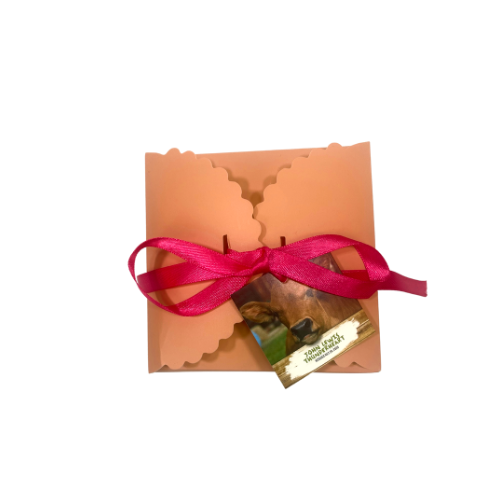 John Lewis Thunderheart's Vegan Almond Butter Blondies
John Lewis Thunderheart was born in a slaughterhouse. His mom, Love, never made it out. Because of the stress and chaos around them and his mom being so sick, John Lewis Thunderheart didn't get enough colostrum to build an immune system and came to us orphaned at a week old, fighting for his life with pneumonia.
During his recovery, to avoid the extreme summer heat, we brought him into our house to have a clean and cool environment, and be nurtured round the clock. With great veterinary care, antibiotics, anti-inflammatories, nebulizer and oxygen therapy treatments, probiotics, Sun Chlorella Algae Super Food, and lots of love, he slowly recovered. He is now strong, healthy, and loves to play with his best friend, Sky the dog.
Lewis will get to live a long, happy life at The Gentle Barn and be an ambassador for all animals everywhere.
This special box features 8 decadent John Lewis Thunderheart Vegan Almond Butter Blondies with butterscotch morsels & pecan pieces in the shape of hearts. The heart shaped blondies come wrapped in a pink scalloped box with a pink ribbon.
8 heart shaped blondies
Vegan
0% Saturated Fat, 0% Cholesterol
Ingredients: Oat flour, Coconut Sugar, Almond Butter, Almond Milk, Baking Soda, Pure Vanilla Extract, Vegan Butterscotch Chips, Pecan Chips, Salt and Cinnamon. Contains: Tree nuts.
Serving and Storage Note:
Open immediately and enjoy. Wrap any leftovers well and store in the refrigerator for a few days or the freezer for longer.
STORAGE FOR A LATER DATE: Wrap the box or item well with foil or plastic and then store it in the freezer. Remove the morning it will be served. Shipping Note:
Each box of blondies is carefully packaged by our baker and ships individually. There is a separate shipping fee for each set of cookies ordered.
Standard Shipping is USPS Priority Mail.
Expedited Shipping is upgraded to the fastest USPS Priority Mail available for the shipping address.
THIS ITEM CAN ONLY BE SHIPPED WITHIN THE USA.